It is perhaps the most flexible outdoor seating collection on the market with each of the units available in soft touch Sunbrella fabric.
Designed by London based Mark Garbertas for Gloster Furniture, the two basic dimensions of 75cm and 100cm allow for limitless possibilities.
If you would like a proposed layout seating plan for your outdoor space please contact us (we just need the size of your space) and we can email a seating plan to you.
Each unit comes with Seagull Sunbrella cushioning: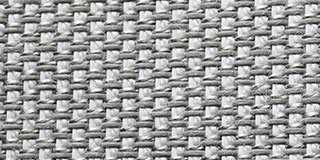 Seagull
Using Sunbrella fabric on the seat cushions (can be removed for cleaning) which sit on electro-polished high grade stainless steel frames, creates a modern and distinctive style that looks gorgeous on any large sun patio or pool area.
The Sunbrella fabric is UV resistant and mildew resistant.
Waterproof covers are available to order separately, the covers not only give a weather proof protection when Cloud is not in use but mean that the seating is kept clean during winter months reducing the need for cleaning. The is a cover for each back cushion and each seat cushion, the covers have elasticated bases and fit snuggly over each cushion, so the modular seating retains its stylish look even during winter months or when not in use.
Scatter cushions in a choice of Sunbrella fabrics are also available to order separately.
Modular coffee tables and side tables are available see Cloud Tables.
Winter covers are available separately.
If you have any queries about any aspect of the range, please phone our furniture help line on 0345 6052505 where we will be delighted to help you or if you prefer send us an email.
The modular aspect enables virtually any plan to be accommodated and we would be delighted to help you with this.
See Gloster Stainless Steel page