With a twist on the tradition, these large Split Raw buffed teak benches by Gloster are a contemporary take on the simple refectory style bench.
The large Raw benches are made from a powder-coated aluminium frame to give the feeling of air and light, with a large raw teak panel seat.
With a choice of Meteor or White Frame and a choice of table top finishes in Buffed teak or Natural teak.
With simple natural edges, the beauty of the wood is allowed to be seen in all its glory.
Sanded Contoured Edge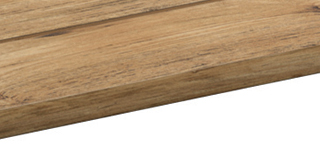 Natural Sapwood Edge
The accompanying RAW table is also available in different sizes - take a look at the RAW 350cm Table and the RAW 450cm Table.